Toscana Studio and Gallery
Welcome to Toscana Studio and Gallery
Toscana Studio and Gallery nestles amid the scenic grandeur of Pusch Ridge in Oro Valley, Arizona. While Nature and Time collaborate to create splendor outside, our artists are just as engaged in crafting beauty inside. Our gallery showcases professional art from dedicated artists in multiple media. You may find artistic gems in corners, uncommon grace on pedestals, or the unique gazing back at your eye level.
Inspired by the setting and art? Eager to create art yourself, but not sure where to begin? Toscana holds workshops and on-going classes in its studios for artists at any level, and for any age from 6 years and better. For 2015, we are proud to present our all-new classes, innovative techniques, and original workshops; with professional and international artists as instructors.
Please leisurely roam our diverse gallery pages, clear your calendar for our forthcoming events, click the revealing links, and discover your creativity! Come to Toscana Studio and Gallery, conveniently located at 9040 N. Oracle Rd., Oro Valley, AZ, just Northwest of Tucson.
Gallery Hours: Tuesday - Friday 11:00 am to 5:00 pm, Saturday 12:00 pm to 4:00 pm. Closed Sunday and Monday.
Summer Gallery Hours beginning May 26-August 21: Monday-Friday 11-5, Closed Saturday and Sunday.
April 21-24, Gallery is open 12-4, Closed Saturday April 25. There will be no classes this week.
Kids' Art Camp 2015- Summer Break

1st Session starts May 26, 2015
& Last Camp Session starts August 3, 2015.
Camps run Monday through Thursday from 10:00 a.m. to 3:00 p.m. Bring your own lunch!
Toscana Studio is offering Camps in a wide variety of media: Sculpt in Clay, Origami Village, Perspective and Op-Art Drawing, Drawing From Life and Photos, Steam Punk/Take Apart, Tile and Glass Mosaic, Acrylic Painting, and Papier Mache'.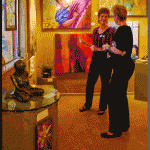 Tucson Open Studio - April 18 & 19, 2015
11:00 am - 5:00 pm both days.
A whole weekend of art at Toscana. Linda invites local artists to Toscana to show off their amazing work. Light refreshments, music, fun and art!
Open Studio Tour Demonstrations both Saturday and Sunday, from 1pm-4pm by Chris Harvey. Come watch the process of composing a painting with this dynamic expressive painter.
Featured Artist
Lisa Agababian